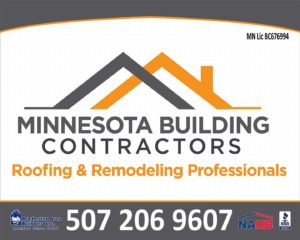 Minnesota Building Contractors is a family-owned and operated company. We perform all levels of building and remodeling. We offer start-to-finish solutions for every project. We also offer full design services. We specialize in roofing installations and repairs, interior or exterior home renovations, including bathroom and kitchen remodeling, home additions, garages and more!
We guarantee high-quality construction for each and every project. Check out samples of our recent work and you'll agree that we're the best choice for your home renovation project.
WHO WE ARE
Minnesota Building Contractors is a family owned Roofing and Remodeling contractor serving South Eastern Minnesota from Albert Lea to Winona. Our 20 plus years of experience provides home owners the comfort in knowing their projects will be completed correctly and on time. Our services include layout and design programs for Roofing, Siding, Windows, Kitchen, Baths as well as complete remodels, our current projects include, historical buildings like the Blue hotel in Lanesboro, MN and the Creamery in Clark's Grove, MN. We provide blue print design, Eagle View measurements and detailed estimating on all Roofing and Remodeling projects. Being as detailed as we can eliminates mistakes and confusion. When you give the most experienced installers the highest quality material and detailed production plans you get a better installation a better warranty and a happy long term customer.
Client Feedback:
"Regarding insurance claims, when home owners experience an unexpected property loss, MBC's experience in communicating comfortably with the insurance company provides home owners some comfort in processing a claim on your behalf."
– Dave F. Cresco, IA
"When you give the most experienced installers the highest quality material you get a better installation a better warranty and a happy long term customer."
– John S. (Bordner Installation Group)